Thank you Langara College for having me to talk about Search Engine Optimization to the marketing students on Thursday night February 28, 2019. It was a special moment for me as it was my first presentation to students and I was very happy to see how interactive the students were in asking questions.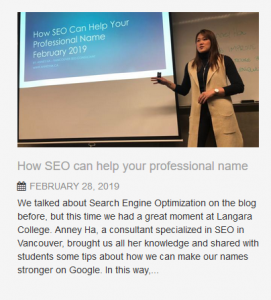 Here is some feedback from the students after my presentation from the teacher:
"I loved the information on how to build links for a personal account – very manageable for a student to do on different profile builders, so super helpful. Would love to learn more about building a personal website and key things to keep in mind for optimization."
"I learned the importance of utilizing the right keywords and how links are essential for seo maximization."
"I learned about meta-tagging and how coding would help with organic search"
"Good visuals, add more examples from your clients please"
" I really enjoyed the session with Anney today thank you for organizing. I did learn a number of things today for instance I did not know that link creating on the website makes such a huge impact on how much traffic sites get. Also it was very interesting to learn about Anney's strategy of only working with customer per industry I think depending with what one is doing that could be a great strategy."
"I thought Anney did a great job presenting, especially for her first time! It was most definitely not boring, actually quite the opposite. The information provided was enlightening, useful, and interesting. I especially liked how Anney provided visual samples of how you utilize SEO as well as gave us materials of the links for creating online profiles.
Thanks for sharing your knowledge with us Anney!"
"I enjoyed the presentation, it made be realize how many technical aspects go into what pops up on your Google search results. It made me realize that search engine optimization is similar to a science that can be learned, as opposed to just luck and how popular you are. Hearing about meta tags was very interesting, I might read more about that concept and use it for myself. The speaker was engaging and had interesting insights. I wish she spent more time talking about hacks and giving us tips. Overall, it was a good presentation 🙂 "
"The guest speaker today was great. Only significant feedback would be for her to work on not communicating in such a self-deprecating way."
"Learned:
– importance of links
– importance of not overdoing links
– putting your name on multiple platforms to build your SEO
"What I felt Anney did well:
– Briefed us on her field of expertise very professionally and clearly
– Detailed and clear explanation of SEO and how it works
– Great energy and enthusiasm
– Helpful stories and insightful experiences of how the industry works
– Awesome first time presentationWhat she could improve on:
– Less text in the PowerPoint. Her stories and experiences provided much more insight.
All in all, Anney did a wonderful job, and educated us thoroughly through use of examples and stories, of how SEO can help your business and why. Her energy and enthusiasm throughout the presentation was engaging and interesting to listen to. Her answers to our questions were also very thorough."