Your site's mobile performance now matters to your SEO rankings
As a Vancouver SEO Consultant I keep up with the latest trends in SEO developments. And while mobile use is not new, Google is now responding to the significant changes in mobile search and announced that it is now giving preference to mobile optimized websites for all mobile searches.
Mobile optimized websites will now be sent to mobile platforms above other competitive sites, effectively it down ranking sites that are not also optimized for mobile.
Given that over 10% of page views today are from mobile, optimizing for mobile is now important part of any SEO/SEM strategy.
Optimizing for mobile will increase conversion
Importantly this particular move to mobile can be very positive for your marketing ROI. The adage that "the medium is the message" coined by Marshall McLuhan rings true for mobile marketing. Research shows that optimizing for mobile will lead to more conversion. In fact, mobile searches prove far more actionable than non-mobile web searches.
The 2013 Mobile Path-to-Purchase Study found that 75% of mobile searches produce follow-up actions, 55% of which ultimately make a purchase!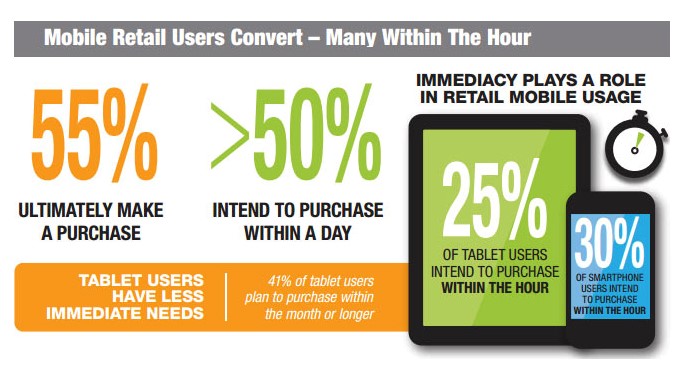 Is your website optimized for search on mobile platforms?
As a SEO consultant in Vancouver BC, I review my client's website traffic to get data-driven results on critical metrics. I measure my client's mobile search optimization and conversion rates, so they can make informed decisions that affect their marketing return on investment (ROI) and their bottom line.
As part of my SEO consultation process, I insert tools to the back-end of a client's website to breakdown and analyze the site's actual – and potential – ROI.
With these tools I gather actionable data on key SEO metrics such as web design, mobile optimization, use-ability, and search rankings across major search engines such as Google, Bing, Yahoo, MSN, among others.
I look at my client's online website traffic data to help you make critical, evidence based decisions on the changes needed to improve your digital strategy.
I analyze and inform you based on your data, the overall market data, and the current SEO best practices along with the ongoing developments in search engine optimization. With that, I present SEO related suggestions to improve your website performance and increase its conversions – getting you shoppers and turning them into buyers.
Mobile SEO will increase your Marketing ROI
A primary goal of SEM and SEO is to increase meaningful "calls to action" for your business – customer actions that will increase your digital marketing ROI. Since mobile searches prove far more actionable than non-mobile web searches, it's not something a competitive player can overlook.
Depending on your business, the particular calls to action we implement may be a product purchase, filling out a form, picking up the phone and calling your business, or filling out a subscription. The critical factors hinge on what's going to increase profit for your business.
To find out more and improve your SEO, call me at 604.723.7156 or email [email protected].